CD DVD Duplication Equipment - What's New at MF Digital
Monday, July 19, 2010
July Celebration Offer - Free Hard Drive Upgrade with 4-Drive Scribe
MF Digital wants to help you celebrate the summer with our July Celebration Special.

Purchase a 4-Drive Scribe 9000 Series system in July and we'll upgrade the standard 500MB hard drive to 1 Terabyte for FREE

,

a $500 VALUE!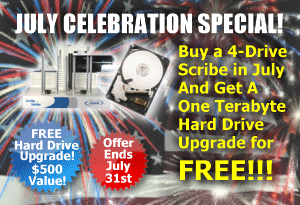 A terabyte is equal to 1000 gigabytes of memory and provides a great local storage option to save countless CD, DVD, and Blu-ray master images. Imagine, with so many masters stored on HD, you may never have to read in a disc again.



Terabyte Hard Drive Details:


- 1000 GB SATA Hard Drive
- Preconfigured with each system
- Store high volume of master images
- Available only at time of system purchase
- MSRP of $500

Offer is good on any purchase of a Scribe 4-Drive 9000 Series system. Offer is good until July 31st, 2010. This free hard drive upgrade is a $500 Value, so take advantage now during this month of July.


To find out more or to find a dealer in your area, contact us at

631-249-9393, ext 205

. MF Digital products are available through a world-wide network of authorized resellers.
You may also visit our web site at http://www.mfdigital.com.
Labels: mf digital, Scribe, terabyte
Thursday, June 24, 2010
MF Digital 5000 Platform Series Now Supports Compact Flash Format
MF Digital's high performance
5000 Series USB SD Duplicators
, for high-volume duplication of USB Drive and SD Card media is

now available for Compact Flash

. With the proliferation of devices requiring small and portable storage, USB, SD and CF memory has become commonplace. The Platform Series is the perfectly matched for those wanting to produce large quantities of popular digital thumb drive and SD / CF card media.

The 5000 Platform Series comes in one (1) to 7, 15, 23, and 31 Drive tower configurations to meet the user's specific high-volume duplication needs. Easily duplicate USB flash memory sticks and hard drives, SD type storage cards, and now Compact Flash Cards, with just the press of button - NO PC required. Beginners and advanced users alike will find these copiers user-friendly, affordable, fast, and reliable.
Advanced Features and Benefits Include:
User Friendly:

Standalone, No PC Required Duplicators, with intuitive touchpad controls and real-time LCD display.

High Capacity:

Choose from either high-volume 7, 15, 23 and 31 drive module configurations.

High-End Quality:

Ergonomic design and placement of controls. Industrial strength components for 24/7 lights-out operation.


Fast Throughput:

33MB per second transfer speed with asynchronous operations for independent load, unload, and copy for each drive channel.

Feature Rich:

Copy, Test, Verify, Compare functions. Advanced bit by bit Compare function ensures perfect copies.

Extensive Media Format Support:

Supports most USB and SD Card Storage Devices including Flash Drives, Hard Drives and Card Readers. Supports USB 2.0, backwards compatible with USB 1.1. Supports SD, SDHC, Micro SD and MMC cards. Compact Flash Card support now available.

The Platform Series offers very fast throughput, producing from 240 pieces to 1200 pieces per hour depending on the platform drive configuration. These copiers also provide powerful features such as high speed copy compare for accurate data checking, quick format facility, data capacity checking, and both synchronous and asynchronous copy modes to all types of thumb drive and SD / CF card media.

Combined with our Best in Class Support, this provides the most comprehensive, effective, and cost efficient thumb drive and SD / CF card duplication solution in the market today.
For more info, please visit our web site or contact your MF Digital Sales Representative.
Labels: compact flash, mf digital, usb duplicator, USB SD duplicator
Monday, May 24, 2010
New Ripstation Youtube Demo - See Disc Ripper in Action!
The

MF Digital Ripstation Series

provides

automated digital conversion

of CD collections into MP3 and other popular digital audio formats along

with metadata sourcing

from our premium metadata source AMG and supplemented by database resources such as FreeDB and Amazon.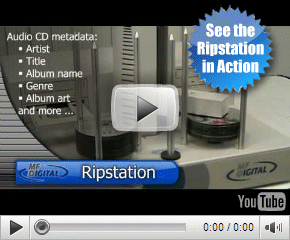 Our new Youtube Demo provides an excellent overview of this advanced disc ripping solution, highlighting the Ripstation's advanced software and hardware features and comes with an informative audio narration. To view our demo, go to MF Digital's Ripstation Page and click on the Youtube Demo Link. The demo is also available in high definition video.
Ripstation Features Include:




100 to 300 disc capacity

Ripping up to 50 CDs per hour

Comprehensive, easy-to-use software

Powerful metadata management tools

Encodes multiple file formats

Direct-to-Device Ipod support

Media Grabber video ripping option




The Ripstation is Ideal for:




Home Entertainment Installers
Record labels and publishers
Online music stores
Advertising industry
Musicians and Event DJs
Radio and TV Stations
Archive holders such as libraries & museums
Audio/Video Conversion Services
End Consumers and more....

To find out more or to find a dealer in your area, contact us at 631-249-9393, ext 205. MF Digital products are available through a world-wide network of authorized resellers.
You may also visit our web site at http://www.mfdigital.com.
Labels: Disc Ripping, mf digital, Ripstation