CD DVD Duplication Equipment - What's New at MF Digital
Monday, July 19, 2010
July Celebration Offer - Free Hard Drive Upgrade with 4-Drive Scribe
MF Digital wants to help you celebrate the summer with our July Celebration Special.

Purchase a 4-Drive Scribe 9000 Series system in July and we'll upgrade the standard 500MB hard drive to 1 Terabyte for FREE

,

a $500 VALUE!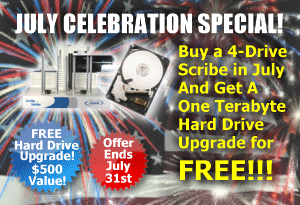 A terabyte is equal to 1000 gigabytes of memory and provides a great local storage option to save countless CD, DVD, and Blu-ray master images. Imagine, with so many masters stored on HD, you may never have to read in a disc again.



Terabyte Hard Drive Details:


- 1000 GB SATA Hard Drive
- Preconfigured with each system
- Store high volume of master images
- Available only at time of system purchase
- MSRP of $500

Offer is good on any purchase of a Scribe 4-Drive 9000 Series system. Offer is good until July 31st, 2010. This free hard drive upgrade is a $500 Value, so take advantage now during this month of July.


To find out more or to find a dealer in your area, contact us at

631-249-9393, ext 205

. MF Digital products are available through a world-wide network of authorized resellers.
You may also visit our web site at http://www.mfdigital.com.
Labels: mf digital, Scribe, terabyte