CD DVD Duplication Equipment - What's New at MF Digital
Monday, May 24, 2010
New Ripstation Youtube Demo - See Disc Ripper in Action!
The

MF Digital Ripstation Series

provides

automated digital conversion

of CD collections into MP3 and other popular digital audio formats along

with metadata sourcing

from our premium metadata source AMG and supplemented by database resources such as FreeDB and Amazon.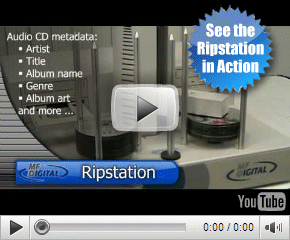 Our new Youtube Demo provides an excellent overview of this advanced disc ripping solution, highlighting the Ripstation's advanced software and hardware features and comes with an informative audio narration. To view our demo, go to MF Digital's Ripstation Page and click on the Youtube Demo Link. The demo is also available in high definition video.
Ripstation Features Include:




100 to 300 disc capacity

Ripping up to 50 CDs per hour

Comprehensive, easy-to-use software

Powerful metadata management tools

Encodes multiple file formats

Direct-to-Device Ipod support

Media Grabber video ripping option




The Ripstation is Ideal for:




Home Entertainment Installers
Record labels and publishers
Online music stores
Advertising industry
Musicians and Event DJs
Radio and TV Stations
Archive holders such as libraries & museums
Audio/Video Conversion Services
End Consumers and more....

To find out more or to find a dealer in your area, contact us at 631-249-9393, ext 205. MF Digital products are available through a world-wide network of authorized resellers.
You may also visit our web site at http://www.mfdigital.com.
Labels: Disc Ripping, mf digital, Ripstation