CD DVD Duplication Equipment - What's New at MF Digital
Friday, November 27, 2009
New Software Build for 5600 videoLIVE Event Recorder & Duplicator
The 5600 Series videoLIVE event recorder and duplicator is the ideal method for capturing and duplicating video. Highly streamlined workflow allows you to quickly and easily capture video and produce DVDs in quantity within minutes of the end of your live event.
Designed in a space saving rack-mount enclosure the 5600 VideoLIVE is not only compact, but expandable. You can easily connect multiple units to increase production from 6 to 60 drives, yet control everything from a single console.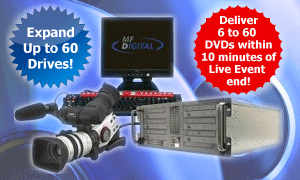 Now
in our latest software build,
the 5600 videoLIVE comes with even more advanced features:
our

New Optional Copy Protection

feature allows you to copy protect your DVDs!



5600 VideoLIVE Features:




- Fast DVD Production

: you can quickly deliver
6 to 60 DVDs within 10 minutes after recording your live event.


- Easy to Use

: simple wizard software and one-click duplicating makes even the most novice user become an expert.


- Designed for Live Events

: sleek rack-mount unit offers real-time video/audio capture, recording and multidrive DVD duplication.
- Scaleable & Network Ready

: scalability with 6-bay modules for high copy production. Gigabit Ethernet to quickly retrieve network content.


- Professional Quality & Output

: choose from ready-made templates to create professional looking DVDs immediately after your event.

-

New!

Optional Copy Protection

:

now supports optional copy protection, to produce copy protected DVDs.

The 5600 Series has all the features your customers need for instant on-the-spot live video recording and dvd production. For more info, please visit our web site or contact your MF Digital Sales Representative.
Labels: 5600 videoLIVE, Live Event Recorder, mf digital