CD DVD Duplication Equipment - What's New at MF Digital
Monday, September 28, 2009
Special Offer on Ripstation 7601XD Lite Pack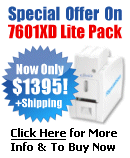 For a limited time only, our 7601 XD Lite Pack Disc Ripping Solution is available for only $899 plus shipping!
Building on the foundation of the professional Ripstation range of automated solutions brings Ripstation XD Lite - a cost effective yet fully automated solution for lower volume CD conversion.
Utilizing Ripstations conversion accuracy and workflow management tools, the 7601 Lite XD brings together a powerful solution to the service provider and retailer to achieve consistent fully automated throughput of 18 CD's per hour.
Ripstation Lite XD runs on a single PC (Min Pentium 4 , 3GHZ, 1GB, 100 GB HD) and utilises robotic technology to provide unattended CD conversion - its as simple as three clicks and the process is started.
The Ripstation Lite pack ships with the reknowned MF Digital 7601XD robotic device. The 7601XD simply plugs in via USB and has a loading capacity of 80 discs per batch and is fully automated.
The system is available as a bundle with all software and robotic hardware, simply requiring a single PC and you are ready to go, or as a standalone software component using IDE, FW or USB 2.0 Drives
For more information on the Ripstation Lite Pack click here. If you wish to order online now, fill in the form here
Labels: Disc Ripping, Formats Unlimited, mf digital, Ripstation