CD DVD Duplication Equipment - What's New at MF Digital
Friday, June 26, 2009
MF Digital Has Moved to a New Address!
MF Digital has relocated to a new facility and with that, now has a new address. We are still providing the same excellent hardware and services, but now in a new location to better serve our customers and partners.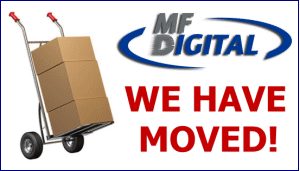 Effective immediately, MF Digital's new building and mailing address is:
MF Digital
155 Sherwood Avenue,
Farmingdale, NY, 11735
Please make a note of this new mailing address change for all your future correspondence with MF Digital. If you have any questions or comments regarding our recent address change, please make sure to contact us at 001 631-249-9393 xt 205.
MF Digital is a leading manufacturer of DVD / CD duplication, publishing and printing equipment for the professional audio and video, corporate, church ministry and government markets. Based in Farmingdale, NY, the company has been developing duplication solutions for over 30 years. Additional information about MF Digital and their products may be found at
http://www.mfdigital.com
, or contact Rob De Rita at 001 631 249 9393 ext. 205.