CD DVD Duplication Equipment - What's New at MF Digital
Friday, May 29, 2009
MF Digital Now Offering Terabyte Hard Drive Option for Automated Duplication Systems
MF Digital now offers a

Terabyte Hard Drive Option

for all Scribe, Director and Flex Cell Automated Systems

. Customers now have the option to dramatically expand their storage abilities when ordering their Duplication, Publishing and Hi-Production MF Digital system.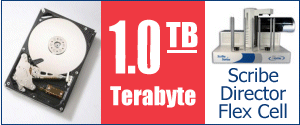 A terabyte is equal to

1000 gigabytes of memory

and provides a great local storage option to save countless CD, DVD, and Blu-ray master images. Imagine, with so many masters stored on your system's hard drive, you may never have to read in a disc again.



Terabyte Option Details:


- 1000 GB SATA Hard Drive
- Preconfigured with each system

- Available only at time of system purchase
- MSRP of $500


For more information on the Terabyte Hard Drive Option, please
call us at
001 631-249-9393 e xt 205

or visit our web site at www.mfdigital.com.
Labels: Director, Flex Cell, hard drive, mf digital, Scribe, terabyte