CD DVD Duplication Equipment - What's New at MF Digital
Monday, January 26, 2009
MF Digital Releases New 5600 videoLive Event Recorder / Copier
MF Digital is now offering the 5600 videoLive

, the new professional video recorder and copier with state-of-the-art features for live video event capture & duplication.
The 5600 Series videoLIVE provides the ideal method for capturing and duplicating video. Highly streamlined work flow allows you to quickly and easily capture video and produce DVDs in quantity, all within minutes of the end of your live event.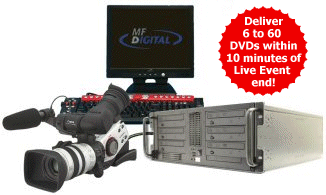 Features and Benefits Include:
Fast DVD Production:

you can quickly deliver 6 to 60 DVDs within 10 minutes after recording your live event!

Easy to Use:

simple wizard software and one-click duplicating makes even the most novice user become an expert.

Designed for Live Events:

sleek rack-mount unit offers real-time video/audio capture, recording and multidrive DVD duplication

Scaleable & Network Ready:

scalable with 6-bay modules for high copy production.

Gigabit Ethernet to quickly retrieve network content.

Professional Quality and Output:

Choose from ready-made templates to create professional looking DVDs immediately after your event.

Ideal for any Live Venues:

Whether its a church event, corporate seminar, court deposition or a live concert, the 5600 Live Series has the exact features you need

.
The live video event recorder is a must have for producing high quality DVD copies. Designed in a space saving rank-mount enclosure the 5600 VideoLIVE Series is not only compact, but expandable. Easily connect multiple units to increase production from 6 to 60 drives, yet control everything from a single console.



The 5600 Live offers the ability to expand your duplicators. The Live Event Recorder system becomes a fully automated production system. Start with 4 or 6 drive master system and easily expand with 6 drive slave units. Growing your production anywhere from 4 to 60 drives is as simple as adding a 5600 copy module slave.
The 5600 video Live Series is an end-to-end automated DVD authoring solution that offers real-time video/audio capture, recording and multidrive duplication of DVDs during live events.


Please visit MF Digital's videoLive Web Page for more information. You may also get more information by

contacting us at 001 631-249-9393 xt 205

and an MF Digital Sales Representatives will be happy to answer questions.

Labels: Live Event Recorder, mf digital, viideoLive