CD DVD Duplication Equipment - What's New at MF Digital
Monday, November 17, 2008
Ripstation 7601XD a Big Hit with the Custom Home Installation Industry
Since it's unveiling at the 2008 CEDIA Expo in Denver, the Ripstation 7601XD Automated Audio CD Conversion System has been a big hit with the Custom Home Electronics Industry. Custom residential installers of home audio and video products are discovering the 7601XD as a profitable business center for

digital conversion and protection of their client's audio CDs.



Home installers are recognizing that the lucrative
Audio CD Conversion
business -- once only available as an outsourced service -- can now easily be offered in-house by them with MF Digital's affordable 7601XD System. Additionally they can offer to protect their clients' legacy CD Collections and also gain valuable home installation leads.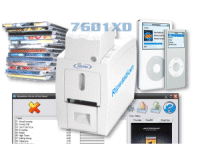 The Ripstation 7601XD provides the ideal Audio CD Ripping Solution. This affordable system, at

only $1995, is the perfect starter kit for anyone wanting to provide bulk audio CD ripping.

This package offers fully automated disc conversion to the most popular digital formats with comprehensive metadata management for fast, perfect and accurate CD ripping. MF Digital also offers higher volume CD conversion solutions as well as Data and DVD Video conversion options.

Please visit MF Digital's Ripstation Web Page to view available options. You may also get more information by

contacting us at 631-249-9393 xt 205

.

An MF Digital Sales Representatives will be happy to answer questions and provide everything you need to get started with this profitable service add-on.

Labels: 7601XD, cd ripping, CEDIA, Disc Ripping, Ripstation