CD DVD Duplication Equipment - What's New at MF Digital
Wednesday, December 12, 2007
Video of Disc Shake on DVD Duplicator
MF Digital published a new
DVD duplicator
video on the exclusive feature of "
Disc Shake
."
Feature:
Disc Shake is a toggle On/Off feature used when multiple discs are being placed into a CD / DVD duplicator drive or CD Printer tray because of sticky media.
Situation:
This type of problem occurs when "sticky media" is used during the production process.
Benefit:
By enabling this feature, MF Digital robotics will "shake lose sticky media" dropping the erroneous media. Result - Only 1 Disc is placed in the tray during load process.
The Disc Shake feature is available on the following models:
Scribe CD DVD Duplicators
,
Director Publishing Duplicators
,
CD DVD Print Stations
,
CD DVD Ripping Systems
and
Medical Disc Imaging Duplicators
.
If you would like to publish the Disc Shake video on your website or blog please click
here
for code.
Tuesday, December 04, 2007
December Special - 'Tis The Season
The MF Digital December special provides a unique opportunity to purchase the highest performance and capacity
disc duplicator
with silk-screen like print quality. This month, MF Digital is offering a
FREE 2 drive upgrade
when you purchase a
Scribe
9602 +
Teac P55 Dye Sublimation printer
(# DP4-9602 D).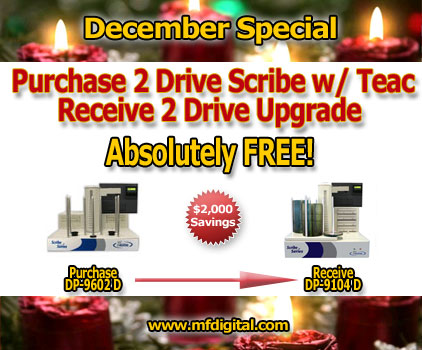 The upgrade not only includes two additional drives, the upgrade increases your capacity from 300 to 500 discs. (upgrade system # DP4-9104 D).
This special is an extraordinary savings of $2,000. After all, 'Tis The Season for giving. To find out more or inquiry about the December Special please
contact us
.