CD DVD Duplication Equipment - What's New at MF Digital
Thursday, October 25, 2007
MF Digital Welcome's Webex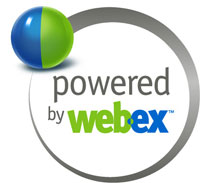 MF Digital is proud to announce partnership with
Webex
, an on line internet service allowing for real-time technical support via direct connect access to remote
CD DVD duplicator
systems.
Through Webex services, MF Digital technicians may log-in, view and control remote
disc duplicators
for real-time troubleshooting and diagnostics. This service allows MF Digital to work with off site duplicators as if they are sitting in our own shop.
Webex is a safe and secure web service with complete functionality regardless of firewall settings at the end-user site.
With the recent partnership with Webex, MF Digital continues to deliver superior technical support through creative solutions and rapid response times for those in need.
--------------------------
MF Digital manufacturers
a full line of
CD DVD Duplicators
,
Disc Publishers
,
Medical Imaging Systems
,
Music Ripping Systems
,
Disc Printers
and
CD DVD Print Stations
.
Tuesday, October 02, 2007
October Special at MF Digital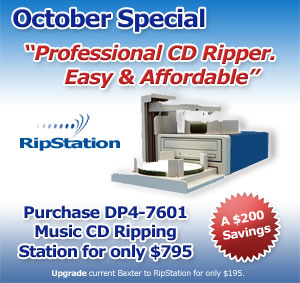 During the month of October MF Digital is offering the
RipStation Dp4-7601
at a very special price of $795 MSRP. This is a $200 savings!
The RipStation is
music ripping software
and automated loader for complete, 100% unattended CD ripping. RipStation includes advanced features such as album artwork and metadata information which drills down 20 levels. RipStation offers a flexible and powerful way to archive, organize and standardize your CD music collection into a digital format.
Find out more about the
RipStation CD ripping
system or
contact MF Digital
today about the
October Special
.
*For a limited time current Baxter owners may upgrade their system to RipStation for only $195. Expand the possibilities of your Baxter digital assistant.
MF Digital also manufacturers professional grade
DVD Video Ripper
and
Data Ripper
systems.