CD DVD Duplication Equipment - What's New at MF Digital
Monday, August 13, 2007
August Special Is One Exceptional Deal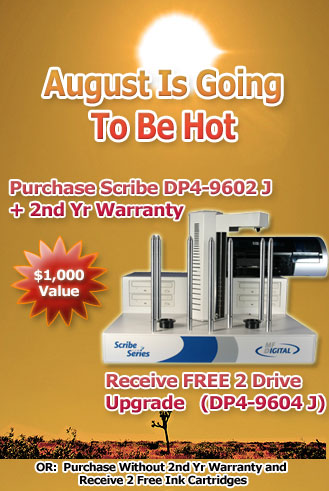 August is a great time to get yourself into a Scribe 9000 Series CD DVD duplicator and inkjet printer.
This monthly special is one extraordinary deal!
August Special Offer
Buy Scribe 2 Drive with Inkjet printer Plus 2nd Year Warranty & Receive:
FREE 2 Drive Upgrade At No Cost!
This is a $1,000 Value!
For Scribe units purchased without the 2nd Year Extended Warranty customers are eligible to receive two free PicoJet Ink cartridges.
Experience the award winning line of optical disc solutions from MF Digital like our
DVD Copier
systems,
CD Audio Ripper
systems,
Medical Disc Imaging
systems,
CD Copier
systems,
Live Event Recorder
,
Hard Disc Backup
unit and most recently our
DVD CD Production Systems
.