CD DVD Duplication Equipment - What's New at MF Digital
Tuesday, December 19, 2006
DVD CD Backup Solution Now Ships with Platinum Version 3.0
MF Digital's DVD CD Duplicator Backup Solutions Now Ship with Backup Platinum Version 3.0
The advanced DVD CD Duplicator backup solutions from MF Digital continue to improve and remain the industry leader for in-line, automated disc backup systems. Now shipping with all MF Digital backup solutions is Backup Platinum Version 3.0. The advanced features and improved utilities of this most recent version include:
Backup to self-restorable executable files;
Option to specify alternative destination for backup;
Additional criteria to filter files by creation and modification date;
Ability to specify include/exclude masks for synchronization items;
Ability to divide backup archive to several volumes with specified size;
Option to exclude empty folders from backup;
Option to add file or folder to an existing backup item from Windows Explorer;
Ability to include/exclude subtrees of registry keys as usual folders;
Automatic search and backup for: Explorer favorites, history and cookies; Windows Settings;
Backup of access permissions and alternate streams for files and folders on NTFS drives;
Option to avoid file splitting between spanned discs due to insufficient space;
Option to close CD tray after writing;
Volume labels for CD/DVD;
Validity check for saved backup data.
Safe write option to remove the previous backup only after saving a new one;
Option to hide program icon in the system tray;
Ability to execute items from the right click menu on system tray icon;
Option to shutdown, logoff or hibernate after backup completion.
Friday, December 01, 2006
Director PRO (model 2604) Updated With 2600 Loader System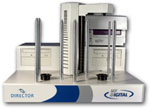 The Director PRO (2604) has long been the flagship disc publishing product from MF Digital and most recently was updated with our new 2600 Series loader system. With proven robotic design the Director PRO is an ideal solution for mission critical disc publishing applications. Included with the Director Series is MF Digital's exclusive API (Application Programming Interface) for seamless integration into custom applications. The Series also provides full Asynchronous burning and printing of media while supporting unique disc burning to each drive in real-time. Intelligent spindle select is another feature touted by MF Digital - this allows the publishing system to hold both CD-R and DVD-R media while the robotics know which media type to pick and when. Visit DVD CD Publisher 2000 page for more information.