CD DVD Duplication Equipment - What's New at MF Digital
Thursday, June 24, 2004
MF Digital is proud to announce the release of the 5906EC Live Event Recorder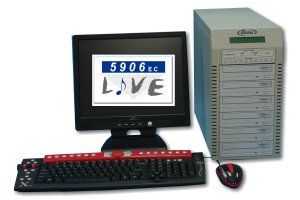 Record audio directly from your mixer or other analog or digital source
MF Digital's "5906EC Live" is the World's most advanced Live Event Recorder / Duplicator. Building on MF Digital's award winning 5000 series design, this easy to use device is perfect for recording from most analog and digital sources. Simply record the event or performance to the 5906 Liver's hard disk, set the desired Start IDs, or track points, choose where to span discs if the program exceeds the capacity of one CD., then start writing up to six discs at once within minutes of the event's end.
The 5906EC Live is the perfect solution for live event CD Audio recording and here's why:


Record audio directly from your mixer or other analog or digital source

Can record up to 50 hours of CD quality sound direct to the systems' hard drive

Insert and remove START IDs (track makers) nondestructively.

On long recordings, the user may choose the span point for the next disc. This allows you to choose a logical break point for multiple disc recording rather than a fixed 74 or 80 minutes.

Record to six drives simultaneously

Can be automated using MF Digital's ScribeEC autoloader upgrade.

Only MF Digital offers true audio disc verification (not just TOC)
ISRC, UPC, and subindex editing.